Intelligence and insights for the smart-home industry
January 2021
Welcome to Plume IQ, our reveal of data-driven intelligence and consumer insights from more than 2.5 billion connected devices, and over 55 million locations, managed by Plume's cloud platform.
Are tablets dominating smart homes?
Ten years after Apple launched its first iPad, tablets have become commonplace owing to their versatility. Today, Plume data shows that the number of homes with one or more tablets is actually not increasing year-on-year. Operating System choice is a two-horse race with iOS leading at 63% and Android at 35% of the installed base. Apple dominates brand popularity, however, it is noteworthy that Amazon made 20x gains comparing 2020 to 2019. Interestingly, tablets do not cannibalize popular device usage—for homes with and without tablets, usage of smartphones and common streaming devices remained constant.

Other Plume news

Perfect synergy
We're thrilled to announce our new partnership with intelligent edge platform provider Akamai! Together, we are working to unify the subscriber experience, and accelerate the deployment of secure and highly personalized digital services for smart homes and businesses. Importantly, the collaboration gives Akamai's entire global customer network, sales and go-to-market teams immediate access to Plume's Consumer Experience Management (CEM) Platform to expand our market reach.
Read the news release >
Read the news coverage from Fierce Wireless >

Go Virgin Media!
We're excited to partner with Liberty Global to enable Virgin Media to bring its new Intelligent WiFi Plus service to U.K. consumers. "As founding investors in Plume since 2014, it's great to see our collaboration extend to the integral role their product plays in Virgin Media's new Intelligent WiFi service, available to our customers in the UK and allowing them to make the best use of our broadband network at this critical time," said Ankur Prakash, Partner, Liberty Global Ventures.
Read Liberty Global's news release >
Read Virgin Media's news release >

Performance boost
We're delighted to share that Atlantic Broadband—the eighth largest cable service provider in the U.S.—has launched Plume's HomePass Smart Home Services suite to its subscribers. "Now, through our partnership with Plume, Atlantic Broadband's high-capacity, fiber-rich network will be joined with a powerful in-home network to deliver a phenomenal WiFi experience with wall-to-wall coverage, personalized controls and superfast speeds up to 1 Gig," said Heather McCallion, Vice President of Products and Programming, Atlantic Broadband.Read the news release >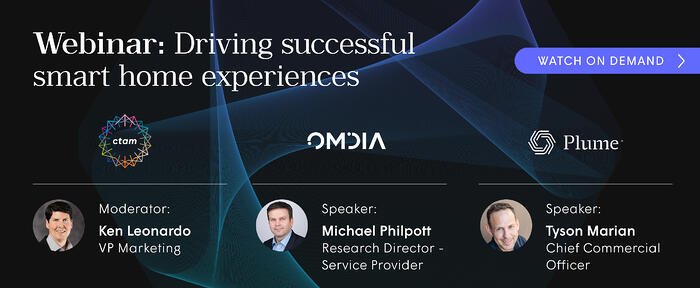 Go-to-market success
Many Communications Service Providers (CSPs) have already taken the crucial step to build a new bundle of Smart Home Services around broadband. In this CTAM-hosted webinar, Omdia's Research Director Michael Philpott, joined Plume's Chief Commercial Officer Tyson Marian to discuss the drivers, and blueprint for building an effective smart home go-to-market strategy. Attendees learned how a successful approach can drive double-digit monthly ARPU growth, reduce churn by up to 30% , and massively increase customer satisfaction.
Watch on demand>

Round-up
Plume's Co-founder & VP Product,Adam Hotchkiss joined Parks Associates' Connections Summit event at the virtual CES to share insights on why CSPs are turning to a new services bundle.
Watch on demand >
Forbes's Serenity Gibbonshighlighted data-driven personalization for smart homes as one of the four trends that the tech industry cannot afford to overlook.
Read the article >
The Tech Report's Renee Johnsonwrote that a cloud-based platform enabling CSPs to gather and analyze subscriber data is the key to driving competitive advantage.
Read the article >
Was this newsletter useful?